Music in the Time of Pandemic: Brilliant Compositions Written in the Years of the Spanish Influenza
by Heather O'Donovan
Coming on the heels of the First World War, the 1918 influenza — often referred to as the "Spanish" influenza — brought an estimated 50 million more fatalities between 1918 and 1920 to an already broken world. But this very period also saw the birth of some brilliant musical works, such as Puccini's Il Trittico and Ravel's La Valse.
Many composers were impacted by the 1918 influenza pandemic — these are just a few of the works they created during the period.
Stravinsky — L'histoire du soldat and The Firebird Suite 
When World War I broke out and Stravinsky found himself stranded in Switzerland, the composer realized he would have to work to make ends meet. He conceived L'histoire du soldat during this time as a small-scale, mobile theatrical production with the potential to tour around the country. Its premiere in Lausanne on September 28, 1918, went well, but his hopes for the production were soon cut short — the influenza had reached Switzerland and soon began infecting members of the production's team, grinding the tour to halt before it could even begin. (L'histoire would not be seen again until 1924.) Then, Stravinsky came down with the flu in early 1919. This, compounded with the emotional stress caused by the war, the Bolshevik revolution, and the recent death of his younger brother, handed Stravinsky a heavy blow. His next project was not nearly as ambitious as L'histoire — it was a new, smaller-scale, suite version of The Firebird, which he had found to be "wastefully large" in its original version — but it did earn Stravinsky some much needed cash.  
Prokofiev — The Love for Three Oranges
As Stravinsky was dealing with all of the challenges in Switzerland, another Russian, Sergei Prokofiev, was facing his own set of setbacks in New York City. The 27-year-old arrived in the Big Apple from a revolution-torn Moscow on September 6, 1918, following an extended concert tour and stops in Honolulu, San Francisco, and Chicago, among other cities, along the way. The composer and performer hoped to make a name for himself in America over the course of a four-month stay, but the influenza's outbreak soon derailed his plans, delaying the concert season in New York and, therefore, his hopes of instant success.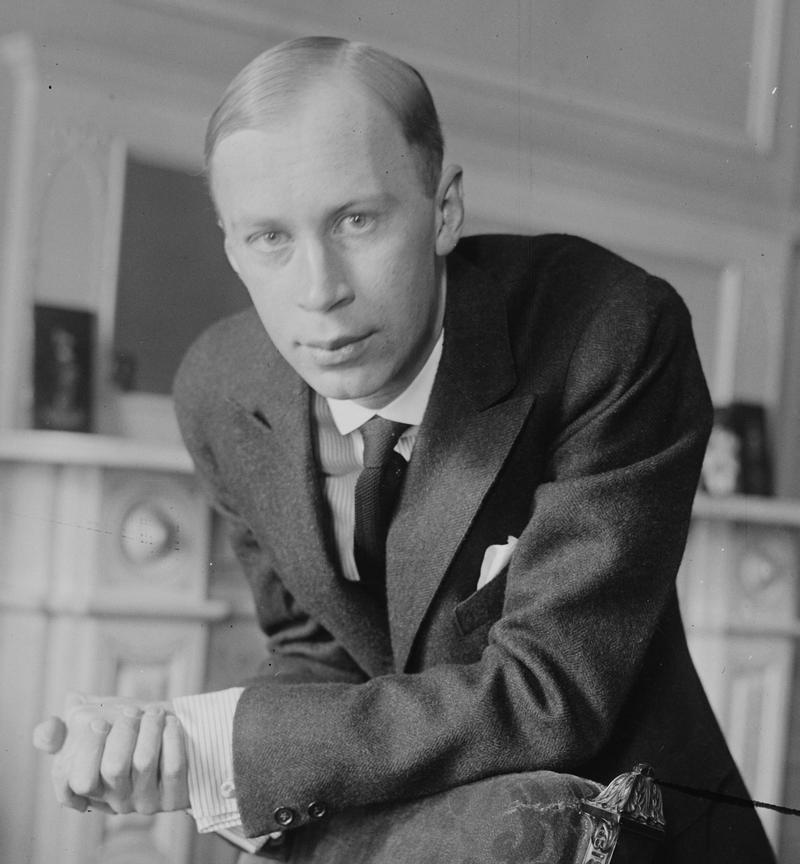 As far as we know, Prokofiev never came down with the flu, but the situation's irony was not lost on him: "To fly from the Bolsheviks to die from Spanish flu! What sarcasm!" He ultimately ended up staying in the U.S. for nearly two years. It was during these early American years that Prokofiev composed The Love for Three Oranges. He'd begun sketching bits of the opera out of the source material in Russia in 1917, and had carried the source text with him on his journey to America — the play's "mixture of fairy tale, humor, and satire," as he described it, appealed to him. His project would finally come to fruition (despite a few stumbling blocks along the way) when he received a commission from the Chicago Opera. He later remarked, "All I tried to do was to write an amusing opera." Amusing it may be, but it's also full of beautiful moments, such as in this scene from Act 3.
Rachmaninoff's arrangement of "The Star-Spangled Banner"
Meanwhile, another, slightly older, Russian also had his sights set on America. Also fleeing revolution, Sergei Rachmaninoff arrived in Hoboken on November 10, 1918, just one day prior to the signing of the War's Armistice. Mere days later, however, the composer's temporary calm vanished as he fell ill with the infamous influenza. Rachamninoff soon recovered, and, although he was advised to rest for a while, he immediately embarked on a slew of concert appearances. Having already toured America, his fame was already well-established. Presenters were eager to get him in the concert halls, he was happy to comply, and his first performance was in Providence, Rhode Island, on December 8th — just shy of a month after his arrival. One week later, Rachmaninoff opened a concert in Boston with this arrangement of "The Star-Spangled Banner," a show of gratitude toward his new homeland.
Respighi's arrangement of La boutique fantasque 
Back across the Atlantic that same December, Italian composer Ottorino Respighi was similarly hard at work on his own arrangement: the ballet La boutique fantasque. In the spring of 1918, Respighi had fallen ill with the influenza and been confined to bed for the greater part of two months. When he finally recovered that summer, he set about composing again, creating a work for soloists, chorus, and orchestra entitled La Primavera. By December, however, Respighi realized that he owed ballet impresario Sergei Diaghilev a commission he'd been given in 1917: La boutique fantasque, based on material from earlier piano pieces by Gioacchino Rossini, which was set to premiere in London in June 1919. Throughout the piece, the music shimmers with color and life, overt emotions falling by the wayside in favor of ebullient melodies and whirling waltzes, the perfect balm in a post-war, mid-pandemic world. 
Bartók: The Miraculous Mandarin  
Across the Adriatic Sea in Hungary, in a village just east of Budapest, Béla Bartók was dealing with his own version of a war-torn, mid-pandemic hell. In October 1918, he was in the process of composing his score for a ballet, The Miraculous Mandarin, when he had to take to his bed due to a particularly bad bout of influenza. He remained there for 23 days, and described his experience as feeling "small ants scratching and causing an irresistible itching in depth of my ears." He eventually recovered, continuing work on The Miraculous Mandarin for several months over the remainder of 1918 and 1919, and later orchestrating the work in 1923. The ballet became one of his personal favorites, and he continually returned to it, tweaking and perfecting it through 1931. The pantomime ballet tells a risqué story set in a brothel and overflowing with eroticism — it was considered so scandalous at the time that Bartók would never see it performed in Budapest, as the government censors continually blocked performances.
Szymanowski — King Roger  
Just slightly further east, in a resort on the Black Sea in the fall of 1918, Polish composer Karol Szymanowski had similarly become indisposed with the vicious virus. Szymanowski's fever dreams, however, led to King Roger: "The Sicilian drama sprang into my mind one sleepless, Spanish night" ("Spanish night" referring to the influenza). His second opera (though he never actually called it an "opera," per se), King Roger takes place in 12th-century Sicily and follows the righteous King Roger II as he's seduced into a world of pleasure. Szymanowski worked on the project over the next eight years, using an original libretto written by his cousin, the poet Jarosław Iwaszkiewicz. Each of the three acts serves as an almost oratorio-like tableau, with the music continually adapting to fit new stylistic idioms. The aria here, from Act II, is sung by the queen, Roxana, as she beckons the Shepherd (a prophet preaching sensuality and pagan values) and his followers into the palace.
Milhaud — Sonata for Flute, Clarinet, Oboe, and Piano, Op. 47 
Back in the realm of purely instrumental music is French composer Darius Milhaud's Opus 47 Sonata for Flute, Clarinet, Oboe, and Piano, which he composed in Brazil in 1918. He had arrived there that February as secretary to poet Paul Claudel, then serving as French ambassador to Brazil. The pandemic reached that country by August, and soon daily deaths were surging into the thousands. Milhaud was greatly influenced by the horrors he witnessed, and wrote in his memoir, "The supply of coffins gave out, and you constantly saw cartloads of corpses that were thrown into the common graves in the cemeteries." It was the sight of such mass death that influenced, at least in part, his Opus 47 Sonata. Its final movement, "Douloureux," is a somber funeral march of sorts — perhaps the composer's personal tribute to all those who had fallen victim to the pandemic. 
Griffes — Three Preludes for Piano
The influenza claimed many great figures, including American Impressionist composer Charles Tomlinson Griffes, who was only 35 when he passed away on April 8, 1920. At the time, he was in the process of composing a drama entitled Salut au Monde, based on Walt Whitman texts. His last complete work was this evocative and expert set of Three Preludes for piano. The first movement whirls rhapsodically around the listener in a tsunami of menacing waves. The storm clears in the second movement, but an eerie sense of foreboding remains, heard in the tinkering of the upper register piano and confirmed by the subsequent entrance of the bass line. In the third movement, a dissonant, jaunty entrance tantalizes the listener. The trio of miniatures ends with a single chord, assuring the listener that all is, ultimately, at peace.