Ελεύθερη πρόσβαση στο νέο διαδικτυακό περιοδικό Interational Orff Schulwerk Forum Salzburg
Στο πρώτο τεύχος του νέου διαδικτυακού περιοδικού του Interational Orff Schulwerk Forum Salzburg (IOSFS), η πρόσβαση είναι ελεύθερη και μπορείτε να το κατεβάσετε
όλο το περιοδικό σε pd
f ή και κάθε άρθρο ξεχωριστά (δείτε παρακάτω).
Στο πρώτο τεύχος φιλοξενούνται δύο δημοσιεύσεις οι οποίες έχουν σχέση με την ελληνική κοινότητα της μουσικοκινητικής αγωγής Orff.
Το Orff-Schulwerk International θα είναι διαθέσιμο στο διαδίκτυο όχι μόνο για τα μέλη του IOSFS, αλλά και σε μαθητές, καθηγητές, ερευνητές και άλλους που ενδιαφέρονται να μάθουν για το Orff-Schulwerk και τη Μουσικοκινητική Αγωγή. Είμαι βέβαιος ότι θα ένα πολύτιμο εφόδιο και τροφή για σκέψη, εμπνέοντας τον τρόπο διδασκαλίας, αλλά και συμβάλλοντας στην πληροφόρηση, την ανταλλαγή ιδεών και την έρευνα σε αυτόν τον τομέα. Ευχαριστούμε τη συντακτική ομάδα για όλη τους την προσπάθεια και τους συγγραφείς για τη συνεισφορά τους.
Shirley Salmon
Πρόεδρος του IOSFS
Welcome from the IOSFS President Shirley Salmon
It is with great pleasure that I welcome you to the inaugural edition of 'Orff−Schulwerk International', the journal of the International Orff−Schulwerk Forum Salzburg (IOSFS). Members of the IOSFS and many others knew and valued the bilingual biannual journal 'Orff−Schulwerk Informationen', later re−named 'Orff−Schulwerk Heute' which was published by the IOSFS and the Orff Institute, Mozarteum University Salzburg. This was available in print form and on the IOSFS website.
Starting with 15 pages in its first issue it grew to an impressive magazine with around 100 pages. 50 of these issues were edited by Barbara Haselbach, 10 together with Micaela Grüner and some with colleagues from the Orff Institute. From 1964 till 2019 one hundred issues were published covering a wide range of subjects on or related to Orff−Schulwerk / Elemental Music and Dance Pedagogy in theoretical as well as practice−based articles. In addition, it included news from the IOSFS, from Orff−Schulwerk associations around the world, as well as news from the Orff Institute, the Orff Centre Munich and the Carl Orff Foundation. This extensive and impressive resource has been read in many parts of the world and is available on the IOSFS website: www.orff−schulwerk−forum−salzburg.org
After the hundredth issue in the summer of 2019, the magazine had to be stopped due to lack of funding. Two main factors caused the discontinuation and the re−thinking that have resulted in this exciting new online journal. Firstly, no agreement could be reached between the IOSFS and the Orff Institute about a future design concept of the magazine. This resulted in funding from the Orff Institute and consequently also from the University Mozarteum being stopped. The second factor was the decision of the Carl Orff Foundation to stop all funding of the IOSFS as well as the magazine from January 2020. It was not possible to agree on the form a new magazine or journal could take. Therefore, the IOSFS has now taken over sole responsibility for publishing the journal, aiming to continue the idea of global communication, and combining this with a new form and contents.
As 'Orff−Schulwerk International' will be available online, it will reach not only members of the IOSFS but be available to students, teachers, researchers and others who are interested in Orff−Schulwerk and Music and Dance Pedagogy. I am sure it will make a valuable contribution − stimulating thought, inspiring our teaching and contributing to information, exchange and research in this field. Our thanks go to the editorial team for all their work and the authors for their contributions.
Shirley Salmon
Read Volume I, Issue I, Spring 2022 here.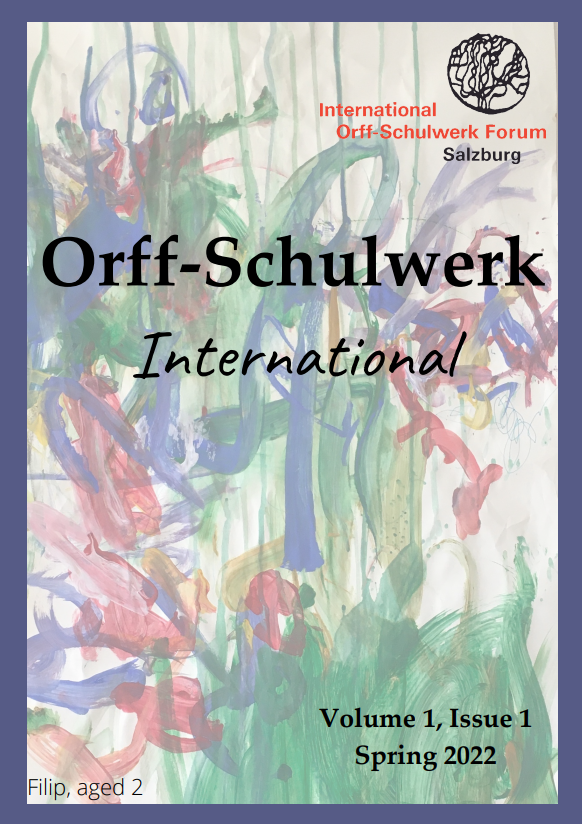 Contents
IOSFS Convention 2021 Presentations
Play and Playfulness: Planning for Freedom and Structure in Orff−Schulwerk/5
Elizabeth Wood
For the Love of Children: Music, Enculturation, and Education/11
Patricia Shehan Campbell
Planning with Mind Maps/19
Shirley Salmon
Creative Group Work as a Central Pedagogical Strategy in the Orff−Schulwerk Approach/27
Andrea Sangiorgio
To Ripple the Water: Music and Culture/34
Kristín Valsdóttir and Elfa Lilja Gísladóttir
It Takes a Village − Planning for Inclusion and Belonging Through Play/41
Charnell King
Orff Music Therapy and Playful Interactions/46
Bethany Rowe
Weaving Journeys − Ways of Developing Creative Learning Processes/54
Caroline McCluskey
Playful Possibilities: Improvisation with Speech and Found Sounds/59 
Michael Chandler
A Process of Opening/65
Kate Buchanan, Andrew Maud and Maria Neil−Smith
The Bauhaus Approach Through Orff Music and Dance Education/68
Tany Zisiadou and Vicky Sachpazi
Speak up for the Planet!/73
Virginia Longo
100 Years of Bauhaus: Chairs/76
Xu Mai and Sarah Brooke/in Mandarin/82
From Around the World
SingOrff in the Pandemic/84
SingOrff
"Crossroads" Unites Ukraine/86
Orff−Schulwerk Association Ukraine / in Ukrainian / 88
Orff South Africa Updates/90
Orff South Africa
Dance for Educators/91
Orff Catalunya / in Catalan / 95
Historical Perspectives
Orff−Schulwerk Sources in the Archive of the Orff Centre Munich/97
Claudia Zwenzner / in German / 103
IOSFS Updates
IOSFS Resonances/106
Christoph Maubach
News from the IOSFS/110
Tiffany English
Reviews of Publications
Taking a Learner−Centred Approach to Music Education/112
Laura Huhtinen−Hildén and Jessica Pitt, reviewed by Nadja Kraft
The Orff Music and Movement Education as a Starting Point and a Destination/114
By Olympia Agalianou, reviewed by Konstantina Dogani / in Greek / 116
EMP kompakt Kompendium der Elementaren Musikpädagogik/119
By Michael Dartsch, Claudia Meyer and Barbara Stiller, reviewed by Micaela Grüner / in German / 122
You are the Instrument/125
By Cora Krötz, reviewed by Wolfgang Hartmann / in German / 127
Imprint/131