Film showing male voice choir's bond to hit the cinema
A documentary about a male voice choir and their friendships as they try and keep the tradition of singing alive will be shown in cinemas.
By Dafydd Evans
Men Who Sing is a portrait of the Trelawnyd Male Voice Choir in Flintshire and explores the importance of friendship in later life.
The film explores the relationship between producer Dylan Williams and his father Ednyfed, who is 91.
It also looks at how the group tries to attract younger members.
Williams, who is based in Sweden, previously made Men Who Swim, a documentary based on his experiences of being in an all-male synchronised swimming team, which was turned into a 2018 film starring Rob Brydon called Swimming With Men.
He decided to return to Wales when he father phoned him and said he had sold the family home and had a skip for unwanted possessions.
He said: "I felt the need to go back and the sight of my father in this empty home, where I was brought up, was very moving.
"I followed him to choir practice that evening, where he's been a member for 70 years, and in that room he started singing with all these men that I remember from my childhood, and that was when I knew this was a film I wanted to make."


He added: "It's an incredible community. A community of men who have a way of looking after each other and the challenge that one has when going into old age.
"The deep hymns that they sing are a way for some of these men, maybe of a certain background who aren't really used to talking about emotion, these are very emotional songs, and I think there's a power in that. There's a real power in these men singing about beautiful things."
Ednyfed joined the choir when he was 24, and features prominently in the film, which will be shown in 20 cinemas from Friday.
He said: "[There are] all sorts of men, quite different interests, education, careers, but one thing in common, we love singing and we love the grip of the harmony.
"That's what's kept me, and I'll keep going while I can."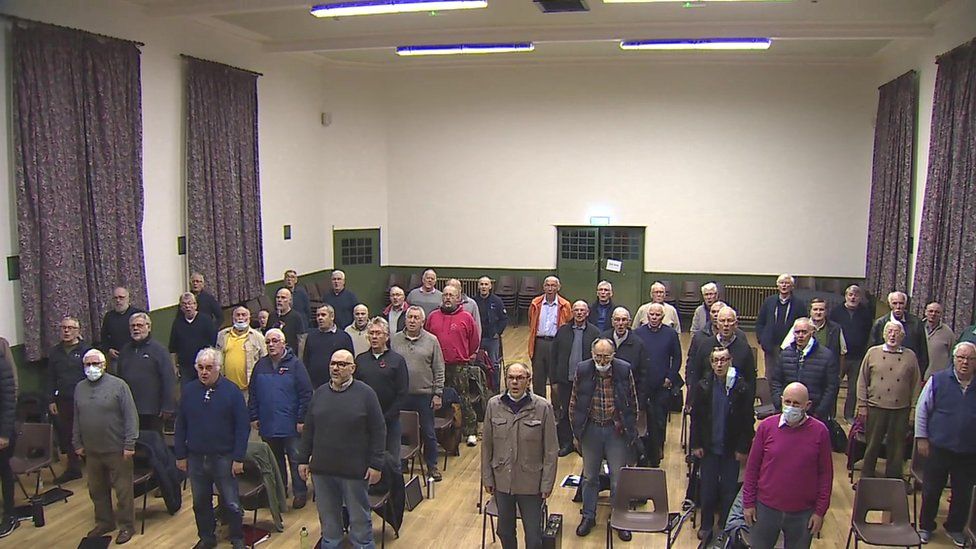 The choir is back rehearsing in person after Covid moved practice online
Conductor Ann Atkinson has led a number of male voice choirs, including Froncysyllte Male Voice Choir in Wrexham, which shot to fame with Universal Music Group in 2006.
She said Men Who Sing would resonate with other choirs.
"From the point of view of the age bracket, the relationships, like a brotherhood really. I can see that in all the choir's I've been involved with. It's a very important thing," she said.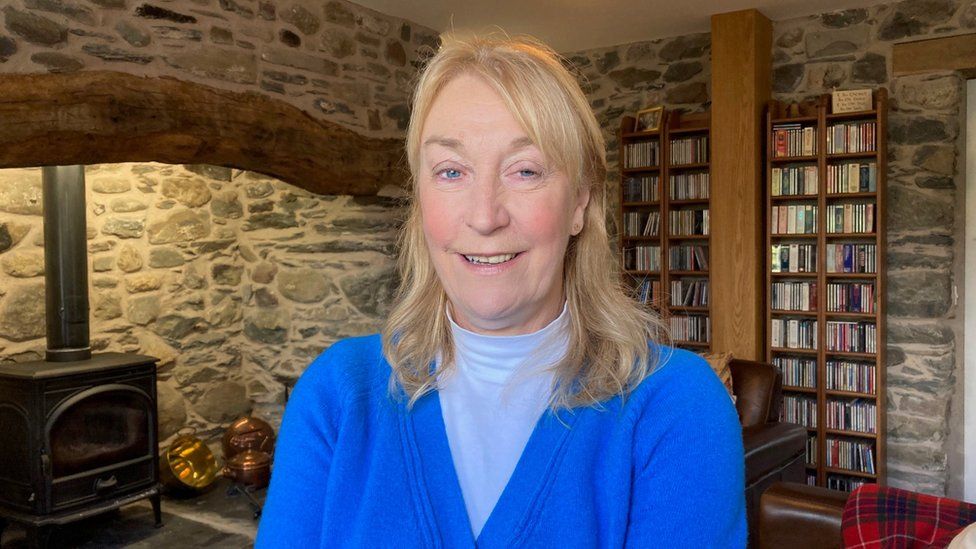 Ann Atkinson said the members of the choir have a special bond with each other
The choir has started meeting in person online after practice moved online during the Covid pandemic.
Ms Atkinson said: "They go that bit further for each other. If someone's got a hospital appointment, shopping, the list is quite endless. It's a very special bond."